Organic Jasberry Rice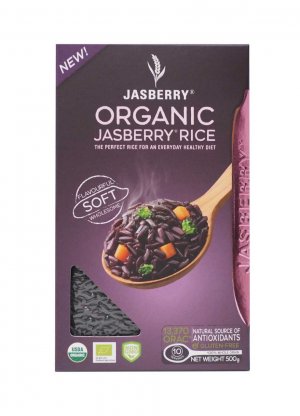 Price: $10.49
Special Price: $ 9.99
YOUR NEW SUPERFOOD RICE
Jasberry rice is a special variety of rice that was developed over a decade through natural cross-breeding. Organic and non-GMO, Jasberry rice is dark purple in color and absolutely delicious. Jasberry rice has 40 times more antioxidants than brown rice, 4 times more antioxidants than quinoa and 7 times more antioxidants than kale. Jasberry rice's amazing antioxidant content makes it the world's newest superfood!
What's more, Jasberry rice is soft, aromatic and extremely easy to cook. Jasberry rice is more versatile and affordable compared to the other superfoods in the market. It goes well with any dish – just replace any other rice with Jasberry rice and get all those antioxidants in your daily diet! Jasberry rice even retains its soft texture when cold.
Perfect to use for salads, soups or as a side. Use as a substitute for conventional rice.
Organic
Easy to Cook
100% Whole Grain
Non-GMO
Vegan
Kosher
Ethically farmed
Enviromentally sustainable
500 gram pack (10 servings)
Pay It Forward
By purchasing this product, you are supporting a social enterprise from Thailand, working to help small-scale farmers out of poverty. Learn more HERE 
Looking for Jasberry Rice Recipes? Check them out HERE!
Find us on Instagram and Facebook @JasberryRice_NZ
NZ STOCKISTS
Interested in becoming a Stockist? Please get in touch wih us (via our Contact Us page).
Please contact us for more information on stockists in your area.
Pickup from our Onehunga Warehouse is available (Monday-Friday 9am-6pm). Please select PICKUP at checkout and we will be in contact to confirm pick up time when order is placed.
Auckland Region:
Bulk Food Savings - Dominion Road
Boric Food Market - Kumeu
Farro Fresh - All Stores
FreshChoice Half Moon Bay
Fruit World New Lynn
Huckleberry - All Stores
IE Produce - Takapuna
New World Albany
New World Birkenhead
New World Devonport
New World Eastridge
New World Kumeu
New World New Lynn
New World Orewa
New World Remuera
New World Stonefields
New World Victoria Park
New World Waiuku
New World Warkworth
New World Whangaparaoa
Organic Store Howick 
Pak 'N' Save Silverdale
Waiheke Speciality Foods
Rest of North Island:
Be Organics - Mt Maunganui
Bin Inn - Rotorua, Taupo
Bin Inn Kapiti Lakewood
Chantal Retail Store - Napier
Coromandel Gold Hemp and Organics
Down to Earth - New Plymouth
Fresh Choice Papamoa
Four Square Martinborough
Huckleberry - Mt Maunganui
New World Broadway Melody's - Palmerston North
New World Churton Park - Wellington
New World Gate Pa
New World Hutt City
New World Island Bay - Wellington
New World Matamata
New World Mt Maunganui
New World New Plymouth
New World Newlands - Wellington
New World Newton - Wellington
New World Tawa - Wellington
New World Thorndon
New World Rototuna
New World Waikanae
New World Wanganui
New World Wellington City
New World Whakatane
New World Whitby - Wellington
Simply Organic Together - Tauranga
Organic Nation - Hamilton
South Island:
Bin Inn Nelson
Bin Inn Timaru
Crisp Fruit and Veg Market - CHCH
Fresh Choice Merivale - CHCH
Fresh Choice Nelson
Fresh Choice Queenstown
Fresh Choice Takaka
Harvest Market Ferry Rd
New World Ashburton
New World Bishopdale - CHCH
New World Centre City
New World Durham Street - CHCH
New World Gardens - Dunedin
New World Hokitika
New World Nelson City
New World Northwood - CHCH
New World Prestons - CHCH
New World Rolleston - CHCH
New World St Martins
New World Three Parks
New World Windsor
Fresh Choice Parklands - CHCH
Raeward Fresh Harewood - CHCH
Raeward Fresh Queenstown
Rangiora Produce Market
Super Value Sumner
Taste Nature - Dunedin
The Lotus Heart Christchurch
AVAILABLE AT SELECTED SPECIALTY STORES, HEALTH FOOD STORES AND PARTICIPATING SUPERMARKETS THROUGHOUT NEW ZEALAND.
Terms & Conditions of Sale
General
"The seller" refers to Findlay Foods Ltd. "The buyer" refers to any person or legal entity purchasing from the seller.
Ordering
The seller's website, the information on it, and any information in emails constitute an invitation to treat, and not an offer to supply products. When the buyer orders products from the seller, this constitutes an offer from the buyer to buy those products in accordance with these Conditions of Use. The seller's acceptance of the buyer's order occurs (and the contract is formed) when the goods are dispatched to the buyer.
Order process
The buyer may order products from the seller by completing and submitting the checkout process on the seller's website. The buyer must provide all information required (including name, email address and payment details) or the seller may not be able to process the buyer's order.
The seller reserves the exclusive right to accept or reject (for any reason whatsoever, and in whole or in part) any order submitted by the buyer. If the seller rejects the buyer's order (or any part of the order), any money paid by the buyer in relation to the rejected part of that order shall be refunded, and the seller shall have no further liability to the buyer in relation to the rejected part of the order.
Consumer Guarantees Act 1993
In the event the transaction the subject of these conditions of sale is subject to the Consumer Guarantees Act 1993 ("the Act") then: If the buyer is acquiring products from the seller for the purposes of a business, then the guarantees and remedies provided under the Act shall not apply to the supply of those products. In the event the purchaser is acquiring the product for purposes other than that of a business, then these conditions of sale shall be interpreted subject to the purchaser's rights under the Act, to the intent that no provisions shall any way limit the purchaser's rights under the Act.
Pricing
All pricing is displayed in New Zealand Dollars and is inclusive of GST.
Availability, Cancellation, Refunds and Returns policy
All orders are subject to availability of products. If for any reason a product is not available, the seller will endeavour to notify the non-availability on this website. The seller may revise the range of products or the specification of any product at any time and without notice to the buyer.
Once an order has been made and processed, it cannot be cancelled.
No returns are accepted unless advised within 48 hours of receipt of the goods. Findlay Foods Ltd must be contacted, and agreement reached, prior to any goods being returned. Goods being returned must be in good condition, and unopened. All freight costs to be at the purchaser's expense.
Delivery Policy
Goods cannot be collected from the seller.
Goods are generally shipped to the buyer on same or next business day via "Track and Trace" couriers. Courier costs are calculated on the weight, volume and destination of the article.
Delivery is generally within 3 business days from dispatch (4 days for rural delivery).
Ownership and Risk
Ownership of all goods sold by the seller passes to the buyer on full payment for the products and delivery charges.
Shortages, Damages or Loss in Transit
Liability for shortage in the quantity of goods delivered is limited to making up the shortages. Where the buyer believes there is a shortage in the quantity of product delivered, the buyer must notify the seller of any such claim within 7 days of delivery, and must provide the seller with a reasonable opportunity to investigate that claim.
Goods leaving the seller's premises are adequately packed. Claims for any loss or damage must be made against the carrier in the prescribed manner.
No damage claims will be considered after 7 days of receipt of goods.
Liability and Maintenance Guarantee
To the maximum extent permitted by law, the seller disclaims all warranties, representations, and guarantees (whether, express, implied, or statutory), with respect to any product or any information supplied to the buyer by the seller including, but not limited to, warranties of availability, accuracy, non-infringement, completeness, timeliness, currency, merchantability, or fitness for a particular purpose.
To the maximum extent permitted by law, the sellers liability to the buyer (whether in contract, tort, or otherwise) for any loss, damage, or injury arising from any defect in, or non-compliance of, a product supplied to the buyer by the seller shall be limited to the price paid by the buyer for that product.
To the maximum extent permitted by law, the seller will not be liable (whether in contract, tort, or otherwise) for any loss of profits, or any indirect, incidental, consequential, or economic loss or damage (howsoever caused), which you may directly or indirectly suffer in connection with the buyers access to, use of, or reliance upon, any product or any information supplied to the buyer by the seller.
In lieu of any warranty, condition, or liability by law, the seller's liability in respect of any defect in or failure of the goods supplied, or for any loss, injury, or damage attributable thereto, is limited to making good the replacement or repair of defects arising under normal proper use and maintenance arising solely from faulty design, materials, or workmanship within the guarantee period, if stated, or otherwise within 6 months of the date of supply, provided always that such defective parts are promptly returned to the seller, unless otherwise arranged.
At the termination of the appropriate period (i.e. guarantee period) all liability on the seller's part ceases.
The warranty does not cover damage from misuse, accident, negligence, inappropriate or improper operation, maintenance, installation, modification or adjustment.
The seller's liability under this contract and the warranty in this clause is confined to the buyer named in this contract, it being agreed that the seller has no liability to any purchaser of the goods from the buyer in that the buyer's rights under the contract are not assignable without the prior written consent of the seller.
Description of Products
Modifications and improvements to the seller's products, prices and data are constantly being made.
Although the seller has endeavoured to ensure that the product and pricing information provided on its website is accurate, complete, and current, the seller does not provide any representations or warranties as to its accuracy, completeness or currency of information, and the seller shall not be responsible or liable for any inaccurate, incomplete, or out-of-date information on this website.
The seller also relies on information from its suppliers and product manufacturers and therefore the descriptions, illustrations and literature are not binding on the seller.
If the goods do not match the description on the seller's website, the buyer should inform the seller immediately so that the seller may take the appropriate action.
Disputes and Governing Law
Any claim or dispute arising hereunder shall be subject to arbitration in accordance with the Arbitration Act 1996. These Conditions of Use (and any contracts to which these Conditions of Use apply) shall be governed by the laws of New Zealand and the courts of New Zealand shall have non-exclusive jurisdiction to hear and determine any dispute arising in relation to these Conditions of Use (and any contracts to which these Conditions of Use apply).
You may also like